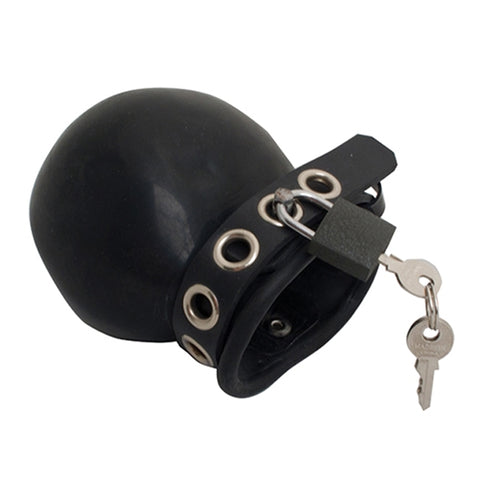 Rubber Lockable Cock And Ball Prison
If you want to enhance your sexual sorcery skills revolving around rubber and chastity play, this Mister B Rubber Lockable Cock & Ball Prison is a great addition to your toy cabinet.
The prison allows the genitals to be totally enclosed and confined, but still vulnerable to stimulation by touch, which will be felt through the rubber.
Made of heavy grade black natural rubber latex, the bag of this Mister B Rubber Lockable Cock & Ball Prison can be closed and consequently pad locked with a small belt, ensuring that the wearer cannot easily take it off. This wonderful little bugger therefore combines three functions in one toy:
The sensation of your naughtiest parts, snugly encased in rubber
The erection enhancing effect of the locking cock strap
The mind boggling idea of being chastised.
Honesty obliges to make a remark about the chastity function: we do not rate this as a high security device, since in many cases, the man who's wearing it could get it off if he makes a concerted effort. However, if the lock stays locked, he will not be able to get it back on, making the device 'tamper evident'.
One size fits (almost) all. All eyelets and rivets enforced with a non elastic fibre before they're put in so you cannot pull them out. As with all natural latex rubber products: do not combine with oil based lubricants. A silicone based lubricant is ideal to help you slip into it and to make it nice and yummie shiny at the same time.
Supplied complete with pad lock.
ALL INCLUSIVE PRICE
PRICE INCLUDES GST AND OVERNIGHT DELIVERY