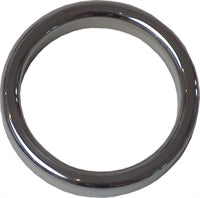 Donut Stainless Steel Cockring 45mm

This Mister B Donut Cockring is from the Mister B Stainless Collection.  It is pure class, and polished to a mirror shine perfection.  If you want to stand out, you have found the best way.
Contrary to most metal cockrings, the wands of these donut cockring are more oval which is much more comfortable when worn longer.
Made of 100% stainless steel, these cockrings are way superior, compared to cheaper metal rings which tend to discolour over time or even worse.  The intention of these cockring is that they hold your entire junk: cock and balls. Because the ring restraints the blood flow back into the body, it leads to longer and harder erections.
About sizing: measure the desired internal diameter with a measuring lint or another cockring. In flaccid state: you should be able to put a finger under the cockring (don't buy it too tight).
Stainless steel
Polished to perfection
45 mm diameter
ALL INCLUSIVE PRICE
PRICE INCLUDES GST AND OVERNIGHT DELIVERY
ALL ORDERS TRACKED DOOR TO DOOR